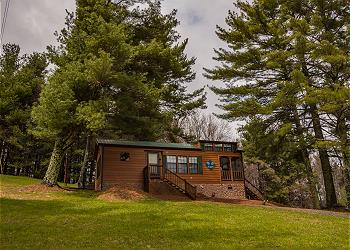 TINY HOUSE COZY!
- Privacy and tranquility
- Cozy log cabin environment
- 1-acre lot with beautiful, wide lawn
- Peaceful wooded setting
- Two queen-size beds
- Perfect for a couple or young family
- Small dogs under 45 pounds considered

Are you intrigued with the concept of a tiny house in paradise? This adorable and immaculate little cabin is perfect way to try it out! And it offers room to sleep 4.

Although the house is compact, the setting is not. Along with the comfortable abode you get an acre of forest and manicured lawn for sun-bathing and games. Relax on the gliding Adirondack chairs on the screened porch, or get out and explore, communing with nature.?Serenity Now is a true get-away, designed for peace, privacy and true mountain ambiance.

Indoors you'll enjoy a cozy cabin atmosphere, with wood-planked walls and gleaming hardwood floors. While everything in the home is "efficiently sized," it's designed for high functionality and comfort. The full kitchen is equipped with everything you need to prepare a meal or leftovers. The main level also hosts a living area, bathroom and one bedroom with a queen-sized bed. There's another queen bed in the spacious loft upstairs (but remember to keep your head low - it's a tiny house, after all). Vaulted ceilings on the main level help add the feeling of openness.

If you love to chill in front of the TV, you'll be well accommodated with the flat-screen in the living area, an Amazon Fire account with plenty of viewing options, and a DVD player. On your mountain get-away you may be avoiding your email, but if you can't resist a peek, you'll also enjoy the cabin's free wi-fi.

This is an unforgettable spot for vacations on a budget. Don't miss this quaint and affordable rental option!

EXPERIENCE THE HIGH COUNTRY
Serenity Now is located on the eastern side of Ashe County in the Laurel Springs community, about 15 minutes to West Jefferson. It provides easy access to the Blue Ridge Parkway and the "Wagoner Access" to the New River.

In quaint West Jefferson you'll find restaurants and terrific shopping, including antique stores and art galleries. There's even a movie theater. This is small-town Americana at its finest. Don't miss watching cheese being made at the world-renowned Ashe County Cheese Factory, with the quaint (yet gourmet) country store. Find refreshment at Boondocks, named the Best Craft Brewery in North Carolina. Drive a little further to Boone or Blowing Rock, for an even wider assortment of dining, entertainment and shopping options.

The Blue Ridge Parkway offers numerous photo opportunities, hiking and bicycling trails and breathtaking long-range vistas, at the many scenic overlooks. You'll understand how our mountains got their name. In this part of the country, the journey's just as enjoyable as the destination, with gorgeous scenery awaiting you at every turn.

Or, stop in at the Doughton Park's Brinegar Cabin and learn about the way mountain folks lived, not so very long ago.

No matter what season it is, there are always a myriad of activities to enjoy, including hiking, horseback riding, volleyball and badminton during the warmer months. Pack your fishing pole and then venture out for fun and adventure on the New River. Several places will outfit you with tubes, canoes, kayaks and other river accoutrements. (Best to call ahead for reservations!).

If you're a winter vacationer, you can enjoy tubing, sledding, snowboarding, skating - and of course skiing - all winter long at Sugar Mountain. In the summer there's often a live band performing at the outside bar on top of Beech Mountain.

Or just kick back at your tiny cabin and feel the stress of the city melt away.

$50 per pet fee, up to 2 dogs.

StayBlueRidge, located in downtown West Jefferson, offers over 50 quality vacation rentals in West Jefferson, Boone and surrounding areas.